The Story Behind Peter Murfitt's Homemade Coastal Art
Trees by the Sea offers unique pre-decorated trees and wreaths. Each tree has more than 150 different shells. I also use 50 lights for my 18" trees and 100 lights for 24" trees. These lights make each piece glow like nothing you've ever seen. Everywhere I go, people claim they have never seen anything like my creations. I enjoy expressing my creativity through my work.
How Trees by the Sea Began
I have been a shell collector for many years. At one point, I ran out of space. It was then that I came up with the idea to decorate small tabletop trees with shells and sea life. At first, I gave them away, and the response was overwhelming. It has been more than 10 years since I started marketing my craft, and it has grown to what it is today. My inspiration comes from what the Southwest Coast of Florida put out on our shores. If I see a shell, crab, or grass, I envision how I can use them to decorate my next pieces.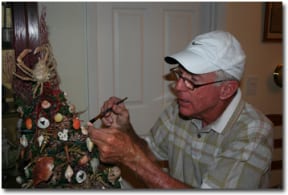 All my life, I have been active in the creative community. However, my fascination with handcrafted detail work started when I was still living in Northeast. Our family ran a large jewelry, art, and antique store. We accommodated many customers from all over the country.
Upon retirement, I knew I wanted to do something special with my creativity. I just didn't know what to do or which direction to go at that time.
I decided to move from the cold and snowy Northeast to the beautiful historic town of Venice, FL. It was located about 15 miles south of Sarasota, FL. During the winter, the weather was warmer. There were also many other reasons why I chose to live by the Gulf of Mexico. One of which is that I can collect unique coastal items that I can use to create my one-of-a-kind pieces.
With the success of my business endeavor, I added a studio in my home several years ago. Customers can view or purchase my latest creations by setting up an appointment. They can also discuss design ideas with me for their custom orders.